About Sweden
Sweden is the fifth largest country by area in Europe (449,964 square kilometres) with a population in 2009 of 9.4 million. The capital of Sweden is Stockholm. Sweden celebrates its National Day on 6 June.
It is a constitutional monarchy and has a parliamentary system of Government. King Carl XVI Gustaf exercises only ceremonial functions as Head of State.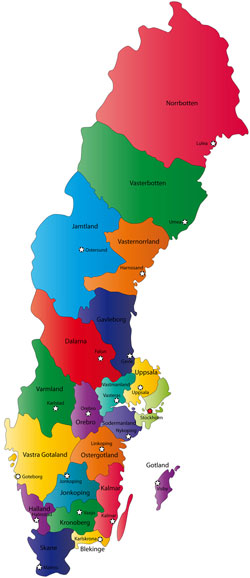 The Swedish economy is heavily dependent on a highly developed and internationally successful industrial sector, which was established in the early part of the 20th century through companies such as Ericsson, Asea, Astra, Alfa Laval, SKF, Electrolux, Volvo and SAAB, and now includes more recently established companies such as H&M and IKEA. However, many of the flagship companies are now totally or partially owned by foreign companies and shareholders. There have been several structural reforms since Sweden became a member of the EU such as the deregulation of the telecommunications, energy and air traffic sectors.
The financial services sector is a strategic growth sector in Sweden with key strengths in retail and private banking, fund management, insurance, and financial IT. Swedes are among the world's most avid users of online banking services.
Quick facts about Sweden
Area: 174,000 sq mi (450,000 km), the third largest country in Western Europe
Longest north-south distance: 978 mi (1,574 km)
Longest east-west distance: 310 mi (499 km)
Capital: Stockholm
Population: 9.4 million inhabitants
Languages: Swedish; recognized minority languages: Sami (Lapp), Finnish, Meankieli (Tornedalen
Finnish), Yiddish, Romani Chib
Form of government: Constitutional monarchy, parliamentary democracy
Parliament: The Riksdag, with 349 members in one chamber
Religion: In practice, Sweden is very secularized. The Church of Sweden is Evangelical Lutheran; co-exists with many other beliefs