About Singapore
Geography
The Republic of Singapore sits 137 kilometres north of the equator, separated from Malaysia by the Strait of Johor and from Indonesia by the Strait of Singapore. Singapore is made up of the main island, which is 42 kilometres long by 23 kilometres wide, and 63 surrounding islets. The highest point is 163 metres at Bukit Timah Peak. Singapore has a total area of approximately 712 square kilometres.
Singapore's equatorial climate is warm and humid, with an average daytime temperature of 31°C and a minimum average of 23°C at night. The country receives an average of 2.3 metres of rain annually, and has two annual monsoon seasons from December to early March and from June to September.
Population
The total population of Singapore is 5.08 million (2010 data). This figure includes approximately 1.2 million foreigners. The three major ethnic groups within the local community are Chinese (74 per cent), Malay (13 per cent) and Indians (9 per cent). Singapore has four official languages: Chinese (Mandarin), English, Malay and Tamil. English is the language of administration and commerce and is widely spoken across the island.
Recent economic performance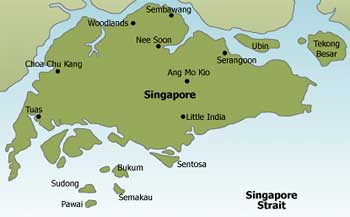 Singapore is recovering strongly from a severe economic downturn as a result of the global financial crisis. In February 2011 Singapore's Ministry of Trade and Industry announced the expansion of the Singaporean economy by 14.5 per cent in 2010, up from a contraction of 0.8 per cent in 2009). Singapore's rapid recovery from the effects of the crisis was aided by to the government's implementation of a SG$20.5 billion 'Resilience Package' as part of the 2009 Budget. Equivalent to 8.4 per cent of GDP the package targeted jobs retention, public infrastructure and trade facilitation.
Singapore's 2011 Budget, released February 2011, focused on providing improved financial opportunities in the areas of education, employment and housing as well as continuing the productivity measures commenced during 2010 that promoted skills development and innovation. According to the 2011 Budget, the Government expects the Singapore economy to grow by between 4 and 6 per cent in 2011, with a general growth trend of 3 to 5 per cent over the next 10 years
Australia-Singapore bilateral relations
The bilateral relationship with Singapore is one of Australia's closest and most comprehensive in Southeast Asia. This is based on long-standing Commonwealth, defence, education, political, trade and tourism links, as well as on the two countries' similar strategic outlook. Singapore and Australia cooperate on many issues integral to trade and security.