About New Zealand
New Zealand is a country in Southwestern Oceania, southeast of Australia in the South Pacific Ocean, with two large islands (North and South Island), one smaller island (Stewart Island), and numerous much smaller islands. New Zealand has a total land area of 268,670 sq km and a coastline of 15,134 km.
North Island
In ancient Maori mythology, the North Island is Te Ika a Maui (the Fish of Maui). According to the story, Maui was fishing with his brothers when he hooked the North Island from the ocean. His ravenous brothers, ignoring orders not to touch the fish, began gnawing at its flesh, causing the fish to writhe and thresh about - this frenzy of movement is the reason behind the island's undulant and mountainous landscape.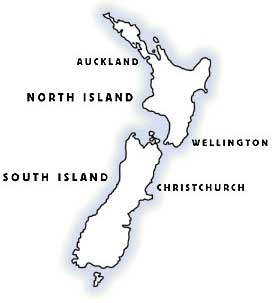 There are snow-fringed mountains in the Tongariro National Park, exclamatory geysers and bubbling mud pools in Rotorua and a profusion of rivers, lakes and streams. But the North Island is more than rips and fissures: it has its share of rolling pastures, forest-clad hills and stretches of long, sandy beaches. It also has New Zealand's two largest cities - Auckland to the north and the country's capital, Wellington, to the south - which are focal points for arts and entertainment, historic buildings, great dining and a variety of accommodation.
The Auckland
The largest city in New Zealand, Auckland, is almost enclosed by water and covered in volcanic hills. Auckland has a spectacular harbour and bridge (and a fanatical number of yachting enthusiasts) which has earned it the sobriquet 'City of Sails'. A magnet for the people of the South Pacific islands, Auckland now has the largest concentration of Polynesians in the world. Highlights include the Auckland Museum, which houses a memorable display of Maori artefacts and culture, and Kelly Tarlton's Underwater World & Antarctic Encounter, a unique simulacrum of ocean and exploration activities.